Video shows Meriden officer punching man on ground
MERIDEN — A MidState Medical Center surveillance video shows police Officer Evan Cossette repeatedly punching a man who is on the ground in the parking lot.
The video came to light Tuesday as part of a federal lawsuit filed by Joseph Bryans, 31, of Parkview Street. Bryans is suing the city, MidState Medical Center and five members of the Police Department over his Jan. 23, 2011 arrest.
The video, which is now in the hands of attorneys in the suit, shows Cossette and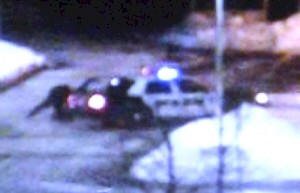 Officer Mark Nowak chasing Bryans through the hospital parking lot before placing him under arrest.
Bryans had arrived at MidState at around 1 a.m. to be treated for a cut he received on his left hand during a night of drinking to celebrate his 30th birthday. He claims he waited to be seen by doctors for more than an hour before becoming frustrated and attempting to leave.
The grainy and sometimes out-of-focus video opens with Bryans leaving the hospital through a set of automatic doors. A female hospital employee follows him out the door and grabs him by the shirt in an attempt to stop him. Bryans calmly shakes free and continues to walk into the parking lot.
According to police reports, hospital staff feared Bryans might hurt himself due to his intoxicated state, and immediately contacted Cossette and Nowak, who were already at the hospital as part of an unrelated call, to pursue him.
The video shifts to an overhead camera view of Bryans as he walks through the parking lot, with Nowak chasing him on foot. Cossette attempts to cut off his path with his police cruiser before getting out of the vehicle. As Nowak arrives from the back, both officers grab Bryans and appear to throw him to the ground.
After Bryans is grabbed by the officers, the security camera zooms out and points away from the parking lot for several seconds. When it comes back into focus, Bryans is on the ground and Cossette can be seen throwing several punches. Cossette later deployed his Taser twice to subdue Bryans, according to police reports of the incident, although the police cruiser blocks much of the camera's view of the struggle after the punches are thrown.
Two security guards walk close to the scene, but back away and watch as Bryans squirms on the ground. Bryans is eventually handcuffed and is stood up by Nowak and Cossette, who escort him back toward the hospital. The entire video lasts just more than five minutes and contains no audio.
Bryans was charged with breach of peace, threatening and interfering with police. He was convicted on March 22 in Meriden Superior Court of second-degree breach of peace, receiving six months in jail, suspended, and a one-year conditional discharge. The other charges were dropped.
In a detailed report filed by Cossette approximately two hours after the incident, he wrote that Bryans ignored several verbal commands to stop walking away, assumed an "aggressive fighting posture" and attempted to engage Cossette in a "physical altercation" before he was brought to the ground.
Cossette, who is the son of Police Chief Jeffry Cossette, states that he struck Bryans several times with a closed fist after Bryans attempted to push himself off the ground in defiance of officer commands. He wrote that the punches had "little to no effect," which forced him to use the Taser.
Bryans filed a complaint with the department, saying that he had been injured during the incident, but it was dismissed by internal affairs investigator Sgt. Leonard Caponigro, who recently retired and died April 14. Caponigro did not obtain the surveillance tape as part of his investigation.
Evan Cossette's attorney, James Tallberg, stated last week, before the video's release, that he believed it would help to verify Cossette's account of the incident and raises "significant questions" about Bryans' version of events.
On Tuesday, Tallberg said he had no further comment. Chief Cossette did not return a request for comment.
Bryans' attorney, Sally A. Roberts, declined to comment at length, saying only that the video "speaks for itself."
Cossette and his father, as well as Deputy Chief Timothy S. Topulos and two other officers, are named in Bryans' suit, which was filed in U.S. District Court in New Haven last summer.
Roberts is also representing the other two men accusing Cossette of brutality, Pedro Temich and Robert Methvin, and is also providing legal counsel to officers Brian Sullivan and Donald Huston, who filed a complaint letter with the city last April alleging corruption and nepotism in the department.
Their complaint and the legal filings have prompted state and federal investigations into the department, and the city has hired its own attorney to investigate. A federal grand jury has been convened in Hartford.
Chief Cossette and his son have declined to comment because of the litigation, although they have defended their integrity and that of the department.
In the Bryans' case, the officers are being sued in their individual capacities and Chief Cossette faces a specific count for allowing "policies, practices and customs" that contributed to Bryans being deprived of his Constitutional rights, the lawsuit says.
City Manager Lawrence J. Kendzior said he would not make any comments regarding the video or complaints against Evan Cossette and the Police Department until the city-initiated independent review by Attorney Thomas V. Daily is finished.
"When the investigation is completed, the City will review Attorney Daily's report and other available materials and take whatever actions may be appropriate," Kendzior said via email.