Use or misuse of force? Record-Journal Editorial
Eric Cotton
Posted: Saturday, April 28, 2012 1:38 pm
Updated: 1:59 pm, Sat Apr 28, 2012.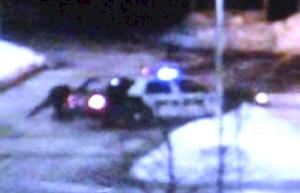 Meriden Police arrest Joseph Bryans in the MidState parking lot
Image from January 23, 2011 video surveillance footage obtained by the Record-Journal on April 24, 2012.
It's hard to tell if Meriden police officers could have avoided two fatal incidents last weekend.
Details are scarce as investigations continue.
But videos and other evidence related to a separate grand jury probe of alleged brutality raise serious questions about how local officers handled other situations in which people were intoxicated or reportedly impaired.
That should concern city officials, particularly in the wake of last weekend's deaths.
Angel Hiraldo died after being tased early last Saturday morning when he reportedly charged at officers with a hammer. Angel Cajigas was shot about an hour later after he threatened police with scissors. Witnesses said he was raving about God and carrying rosary beads.
Police had a similar run-in with Cajigas last winter, minus the scissors, and were able to take him into custody.
His family says he had a history of drug and mental health issues. Officers may have had no other choice this time than to use deadly force.
The incidents share a common thread, however, with three cases of alleged brutality that have embroiled the police department over the last year: They occurred late at night or very early in the morning and involved subjects reported as intoxicated or erratic.
Nothing in surveillance video released last week suggests Joseph Bryans posed a threat before he was tackled, punched and tased in the MidState Medical Center parking lot in January 2011. He also didn't violate any laws when he left the ER for a smoke after waiting more than an hour. He was walking to the far end of the parking lot because smoking is prohibited on hospital grounds.
Bryans had gone to MidState voluntarily around 1 a.m. for a cut hand after spending the night drinking to celebrate his 30th birthday. But if he was drunk enough to endanger himself, and had "escaped" the ER, as Officer Evan Cossette says a nursing supervisor told police, he would have been running or stumbling in the parking lot. Instead, the video shows him walking with a slow, steady gait.
Officer Mark Nowak is seen chasing after Bryans. Cossette drives past and turns his cruiser to cut him off. Still not even a suspect, Bryans tries to walk around the cruiser. Cossette grabs him and he and Nowak take Bryans to the ground. The camera pans away and goes out of focus for four seconds before returning to show Cossette punching Bryans several times while he's on the ground. Cossette also used his taser, but it's hard to make out in the video.
The report states Bryans ignored commands to stop, which seems likely, although there's no audio. It's hard to believe, however, that Bryans could also have "assumed an aggressive fighting posture" or attempted "to engage in a physical altercation," since it took Cossette all of two seconds to jump out of his cruiser and grab him.
In another incident under federal scrutiny, an arrest on Pasco Street in October 2010, an officer can be heard in a video screaming at a drunken suspect, "I'm gonna break your (expletive) neck." Cossette is heard admitting that he kneed the suspect in the face.
Meanwhile, retired officer Buddy Gibbs is now saying a drunken arrestee made no threatening movements toward Cossette in May 2010 before being pushed backward into a holding cell while handcuffed, causing him to hit his head on a concrete bench. Gibbs admits he told Internal Affairs a different story.
The use of force isn't automatically justified when someone may be drunk or on drugs. The challenge for police is in defusing those situations, and not escalating them.
Reach Managing Editor/News Eric Cotton