Supporters of Bullied Teen Speak as BOE Looks to Revise Public Comments
Middletown Board of Education's Proposal to Move Input Session to End of Agenda is Tabled for Next Meeting
Alexa McClain, center, grandmother of Monique McClain, 13, who her family says has been bullied for seven months while a seventh-grader at Woodrow Wilson Middle School in Middletown, speaks to the Board of Education. She is flanked by the family's attorney Sally A. Roberts, left, Monique's uncle Donald, right, and mother Alicia, far right. Credit Cassandra Day Supporters of a 13-year-old middle school student who they say is the target of bullying lashed out at the superintendent and Board of Education Tuesday.
Alicia McClain, whose daughter Monique was a Woodrow Wilson Middle School seventh-grader until Jan. 25 of this year, accused Superintendent Michael Frechette of failing to provide a safe learning environment.
McClain stopped sending her daughter to classes she was repeatedly tormented by several students, according to the family. She accused the superintendent of schools, the principal and Board of Education of not resolving the complaints.
"For those of you who don't have a backbone to stand up to this man, shame on you," McClain said to Board members. "You guys know this man is wrong and I can see in your face right now."
She pointed out some of those in attendance. "You know he's wrong, you know he's wrong.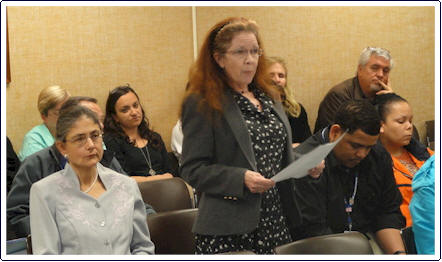 I can see who cares. You care, I can see it in your face. I can see it in your face. When are you guys going to stand up and put this man in his place?"
She was joined by her lawyer Sally A. Roberts, Wesleyan student and Monique's tutor, Matt Donahue; Monique's grandmother Alexa and uncle Donald.
"I just want to say we're all ashamed up at Wesleyan," Donahue said. "I fully vouch for Monique's bravery, courage and willingness to learn. It's your responsibility under state statute to provide a safe school environment for Monique to learn in and you're not doing so."
Alexa McClain, who acknowledged this was her fifth time addressing members on this issue in the past seven months, read her emotional account to the Board.
These statements took place during the public comment session, which is near the top of the Board's monthly agenda.
The Board also discussed changing its bylaws to restrict public comment on non-agenda items to the end of the meeting.
Under the proposal, Bylaws #9325 and #9325.2 would be amended to create two public input sessions. Item five would allow discussion of agenda items only and item 13, at the end of the meeting, would allow non-agenda topics; with each speaker held to a maximum of three minutes.
The motion was tabled after members agreed three of those absent, with strong ideas on the changes, should be present.
Jay Keiser expressed displeasure at the bylaw amendments.
"We're asking people to stay until the very end of the meeting and then talk," he said, adding it wasn't fair for the public or the board, especially when meetings run late into the night.
"I think we should encourage members of the public to come to our meetings and express their opinions whether or not those opinions directly relate to what's on the agenda that particular night. So I will be voting against the two bylaw changes because of that."
William G. Grady spoke in favor of moving the public comment session on non-agenda items to the end of board meetings.
He looked directly at the audience and said, "We can't respond to that. You think we wouldn't like to respond to that? You think we would like to engage in discussion and argument? Of course we would, but that's not the time to do it."
In other news, parents of children at Macdonough Elementary School addressed possible cuts to the summer program and increased enrollment numbers.
"I urge the Board to reconsider carefully cuts to the summer program," said resident Ed McKeon. "To cut that budget really hurts the families. I will go to the Common Council meeting and speak to whom I need to [in order] to make sure we adopt the full budget — with a caveat: at the end of the year … I'd hate to have someone stand up and say, 'we have $1.5 million in surplus.' I urge the Board to be open with the parents and help us be your advocates."
Resident and Macdonough PTO President Jennifer Alexander spoke on behalf of the elementary school's summer program.
"If we face cuts, I understand everybody shares in the pain, but the summer program is a half-day and it costs $12,000. There's no transportation involved," because it is a neighborhood school.
"It's a really good investment, a really frugal way for five weeks to give kids who historically have low test scores to reverse the summer slide. I want you to really think about that," Alexander said.
She also raised the possibility of re-examining school district lines again in Middletown, to accommodate a growing population in the North End.
Alexander said enrollment at Macdonough was 213 last year and this year students number more than 250, "with 60 incoming kindergarteners, I believe.
"We need to adjust the lines of those districts. I say this not lightly. Next year, it could be 270 to 280. I ask you to consider forming a subcommittee to consider redistricting."