EDITORIAL
Report Clears Meriden Cop, But More To Come
Excessive force, favoritism inquiry not the last word
In addition to allegations of excessive force lodged by fellow officers, Meriden Officer Evan Cossette is facing several civil suits that allege the same thing. The security videotape of an incident Jan. 23, 2011, in the parking lot of MidState Memorial Hospital is part of a lawsuit filed by Joey Bryans against Meriden police and specifically Cossette.
A so-called independent investigation commissioned by the city of Meriden does not put to rest allegations that a police officer used excessive force against suspects and was treated favorably in disciplinary proceedings because he is the chief's son.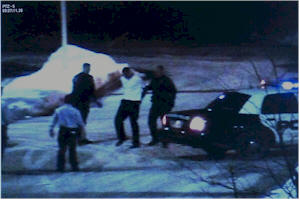 Investigator Thomas V. Daily, a Hartford attorney and former federal prosecutor, exonerated Officer Evan Cossette and the department last week of complaints made by three other Meriden cops. Mr. Daily concluded that the weight of evidence did not support the complaints that the officer used excessive force on several occasions in making arrests and that top department guns gave him favorable treatment because the chief, Jeffry Cossette, is his father.
But the scandal continues to bubble. For one thing, Mr. Daily's $60,000-plus investigation was flawed because he allowed the intimidating presence of the department's chief of detectives, Lt. Mark Walerysiak, to sit in on the interviews that he conducted, including interviews with the complaining officers. Some "independent" investigation. Why was the lieutenant present?
Nor was Mr. Daily available for news media questioning about his report when it was introduced last Friday by Meriden City Manager Lawrence Kendzior and police brass.
Yet to be finished is a state police investigation and the work of a federal grand jury. The officers who filed the internal complaints against the department — and who, ironically, are now the subjects of internal affairs investigations — are going to court. So are suspects who allege that the younger Mr. Cossette used excessive force against them.
While exonerating the department of favoritism, Mr. Daily suggested that it might want to toughen up its anti-nepotism policy, basically because people think the worst when relatives work together. That advice is probably worth $60,000 if Meriden will take it.