Police Must Be Accountable To The People
Courant.com – Op Ed
By ROBERT L. KLEIN
The Hartford Courant
May 1, 2011
Recent reports of police misconduct, which include allegations of brutality, lax discipline and favoritism in Meriden, Bristol and Windsor Locks, along with similar incidents in other departments during the past several years, demonstrate the urgent need for legislation to protect the civil rights of innocent citizens.

Because police officers have the powers to arrest, seize property and use deadly force, their abuse of their authority represents a grave threat to the safety and civil rights of all citizens. Prospective police officers must be strictly screened to make sure that only people with high moral and ethical standards are hired.

Once officers are hired we must have clear, unbiased methods to review their conduct on the job. Just as there are statewide agencies to hear complaints and discipline members of most other professions — such as the health department with regard to doctors and the statewide grievance committee with regard to lawyers — there should be a state agency to hear complaints and discipline police officers.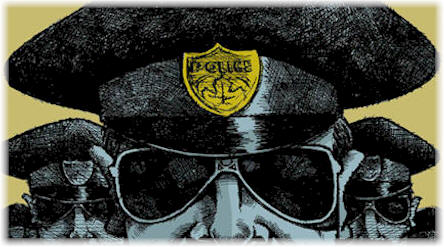 One of the surest routes to reducing instances of police misconduct is to make sure those being given a badge meet rigorous qualifications.

The state must implement much stronger laws and regulations, setting out much more stringent requirements for becoming a police officer and ensuring that the hiring practices of individual police departments maintain these standards.

This should include the following:

1. Very thorough background screening including high school disciplinary records:

Was this person a high school bully? Did he assault and injure any of his high school classmates? Unfortunately, many high school bullies apply to become police officers simply because they like to bully other people.

2. Very extensive psychological testing and interviews to determine whether the person has violent tendencies, a predilection to injuring or bullying other people and whether he is morally suited to become a police officer. What are his moral and ethical values? Is he an honest person who likes to help other people rather than hurt other people?

3. There should be a specific prohibition in state law stating that no preference can be given to applicants who have relatives who are already on the police force. Also, if hired, such applicants cannot work under the direct supervision of any relatives. Further, officers must disqualify themselves from decisions with regard to the discipline or promotion of a relative within the same police department.
Further critical reforms include:

Promulgation and enforcement of strict and uniform disciplinary rules that apply to all police officers in Connecticut, which would be overseen by a statewide grievance committee.

Revising laws to make it a very serious crime for any police officer, internal affairs investigator or police official to cover up or fail to properly investigate any complaints against police officers.

Requiring all police officers to carry digital camcorders and to turn them on whenever they interview a citizen or take any action against a citizen.

Creating a specific requirement that, whenever a police officer uses force against a citizen for any reason or takes other coercive action against a citizen, a complete written report sworn to by that officer must be made and all such reports be reviewed by internal affairs investigators, whether or not a complaint is made, to determine if the police officer's actions were lawful.

Every police department in the state should be required to have at least one full-time and completely independent internal affairs investigator. These investigators should report directly to either this new police regulatory agency (similar to the statewide grievance committee) and/or to the state police.
The number of serious cases of apparent police misconduct that compromises the safety and rights of citizens demands action. Members of the General Assembly's public safety and security committee and other legislative leaders should propose and pass such legislation to protect the civil rights of all Connecticut citizens.
Robert L. Klein, a lawyer is a retired assistant attorney general active in civil rights litigation.

Copyright © 2011, The Hartford Courant