Police dismissed Web post about cop at club
MERIDEN - Shortly before Lt. Robert Green gave his notice of retirement on Dec. 30, 2008, city police were aware of serious - though anonymous - allegations that officers including "the shift supervisor Green" were frequenting a Berlin Turnpike sex club.
Meriden police raided the club two days after Green retired, making several prostitution arrests.
Green, a former supervisor, admitted to police when questioned after retirement that he had sex with employees of Club 2041, near the Meriden-Berlin town line. He was never disciplined or prosecuted and now collects a $56,552 annual pension.
Officers Brian Sullivan and Donald Huston, who are alleging widespread misconduct and favoritism within the department, claim that Green was warned that his name had come up in connection with an investigation into prostitution at the club, which prompted him to retire rather than face discipline. They have not provided any proof of their allegation.
Detective John Williams, who heads the Crime Suppression Unit's prostitution-related investigations, has said the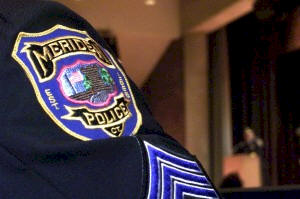 department could not have tipped off Green, because evidence of his connection to the club appeared only after his retirement, when he was seen in a video seized during the police raid.
A review of the case file, however, shows that police had information in the form of an anonymous posting on a website stating that the lieutenant regularly engaged in sexual activity at the club. The website was reviewed the same month Green notified the city that he would be retiring.
Williams said last week that they did not find the posting credible enough to investigate Green specifically. The detective strongly denies that any police officer warned Green of an investigation. Green declined to comment for this article, but has said previously that he had no reason to believe anyone at the Police Department was aware that he was visiting the club.
Police began looking into Club 2041 in December 2008, after receiving an anonymous letter detailing alleged prostitution and other illegal activity there. The letter referenced the website stripclublist.com, which included posts from users suggesting the club was being allowed to remain open because police were frequenting it themselves.
The club, which was run by David Henderson and his brother Daniel, had operated for nearly two decades under various names, and had been the subject of prostitution raids on at least three occasions.
Officers in the department's Crime Suppression Unit reviewed the content on the website as part of the beginning stages of an investigation that would ultimately lead to a Jan. 20, 2009 raid and the arrest of David Henderson and several club employees.
According to documents detailing the case, the check of the website "confirmed the information that was in the letter."
Under a section of the site that included customer reviews of the club, multiple references were made to alleged police complicity in the club's survival, including one May 2008 post that mentioned "a shift supervisor" referred to as "Green" visiting the club in his cruiser weekly and engaging in sexual activity with prostitutes. It also claimed activity in the club was being recorded by employees.
A printout of that portion of the website was included in the case file, obtained by the Record-Journal through a Freedom of Information request.
In interviews with the Record-Journal, Williams confirmed that the posts on the website were reviewed at the outset of the probe into Club 2041, but said the reference to Green was not taken seriously at first glance.
"People allege that cops do stuff every day," he said. "I never would have thought. When the website said he was there, I assumed it was for law enforcement purposes."
Green was also known around the department as a straight-laced, professional supervisor, Williams said, which led to further doubts in officers' minds about the credibility of the anonymous allegations. Internal Affairs officers were never notified about the comment, and outside agencies such as the state's attorney's office were only notified about the allegations after the Jan. 20 raid uncovered journals belonging to David Henderson, which included accounts of Green's visits. By that time, Green had already worked his last day at the department.
According to city personnel records, Green had submitted his notice of retirement on Dec. 30, 2008 and officially retired on Jan. 18, 2009 - just two days before the raid.
More than 500 videos, including one that showed Green inside the club in uniform, drinking an unspecified beverage, were also discovered as part of the investigation. The tapes eventually led detectives to question Green about his involvement at the club, on Feb. 9 - around three weeks after his Jan. 18 retirement.
Green, now a state marshal, admitted during the February 2009 interview with police that he engaged in what he said was consensual sexual activity at the club while off duty, according to an incident report in the case file. The report stated that there "isn't any probable cause to arrest Robert Green at this time."
Police Chief Jeffry Cossette says Green could not have faced administrative discipline at that point because he was already retired. There wasn't probable cause to arrest him, Williams said, because there was no evidence he had paid for sex.
"Consensual sex is legal, even if the female may be employed as a prostitute at a business," Williams said in an e-mail. "Not one person at the club nor Green stated that there was any monies paid."
Williams has also said that the statute of limitations had likely passed for any potential offenses.
Cossette defended the department's approach, saying that police do not initiate Internal Affairs probes based on anonymous allegations without some corroboration, and that initial surveillance did not provide any indication that officers were patronizing the club.
"Internal Affairs investigations are not usually initiated based on blogs where pen names of participants often are not reliable," he said. "If there was any indication of Police Department member involvement, it would be addressed either criminally or administratively or both, if the situation warranted it and it was within the authority of my position."
Asking Green about the Internet posts was not an option, Cossette said, because it could have compromised the Club 2041 investigation. If Green had been involved with owners of the club, for example, he could have tipped them off before the raid, Cossette said.
Sullivan declined to comment for this article, but Huston said he believed information in the case file proved that the department had knowledge of Green visiting the club, and allowed him to retire before he might have faced any discipline. He added that he believed the multiple comments on the website implying police involvement at the club showed a failure to properly investigate the case.
"If I was the chief, I would have passed it off to a different agency to investigate it," he said.
Cossette points out that Huston and Sullivan, who have also alleged that he and other administrators ignored or covered up police brutality and other misconduct by various members of the department, were not involved in the Club 2041 investigation and do not know all the facts about the case.
"Their allegations are based purely on speculation and hearsay," he said.
Williams, who is also the police union's chief steward, strongly denies that he or any officer warned Green, and has filed Internal Affairs complaints against both Huston and Sullivan, claiming they were untruthful in their allegations against various members of the department. The complaints are awaiting hearings.
Criminal justice experts said that while an outside agency would not be absolutely necessary to look into the information indicating that Green may have been frequenting the club, it would have at least warranted an internal review.
"When this information is learned by anyone in the department who came across it, it should have gone to a supervisory officer, or it could go directly to Internal Affairs. That's the way it's supposed to happen," said George Kain, a retired state probation officer and associate professor of criminal justice at Western Connecticut State University.
Kain, who also has served on the Ridgefield Police Commission for the last 12 years, said that minor complaints or allegations against officers are generally investigated quietly within the department, so as not to damage public confidence, but that more serious matters are generally turned over to outside agencies because it gives an appearance of ethical propriety.
"The police department's IA unit - that does have the authority to conduct this investigation; this isn't minor," he said.
Eugene O'Donnell, a professor of police studies at the John Jay College of Criminal Justice in New York, said that while departments do receive a multitude of anonymous, unfounded or retaliatory complaints, not properly investigating allegations against officers can often come with consequences.
"None of this is unheard of. Some departments don't come to terms with it until it hits them in the face. You need to have a procedure in place when you get a complaint that appears unfounded," he said.
City Manager Lawrence J. Kendzior said he would not comment on the merits of any allegations against members of the department, due to the ongoing investigations, but said he was going to send information about the anonymous Internet posting to the independent investigator hired by the city.
© Record-Journal
Timeline
- Dec. 2008 - Anonymous letter sent to police and mayor's office alleging prostitution at Club 2041; members of Crime Suppression Unit review posts on stripclublist.com that reference "shift supervisor Green" visiting club.
- Dec. 30, 2008 - Lt. Robert Green submits retirement notice to city.
- Jan. 18, 2009 - Green officially retires after 31 years with police department.
- Jan. 20, 2009 - Police raid Club 2041, make six arrests.
- Jan. 22, 2009 - Search warrant obtained for storage facility belonging to David Henderson that uncovers approximately 500 tapes of activity inside the club.
- Feb. 9, 2009 - After tapes reveal him in club while in uniform and on duty, Green admits to frequenting club, engaging in what he said was consensual sexual activity. Police find no probable cause for arrest.