Officer fights for job after being fired for kicking immigrant
By LEE WILLIAMS
Correspondent
Published: Friday, February 24, 2012 at 2:33 p.m.
The Sarasota Police officer who was caught on tape and later fired for kicking a handcuffed Guatemalan immigrant will have to wait a bit longer before learning whether he will get his job back.
An image from a security camera shows Sarasota Police Officer Christopher Childers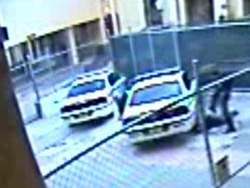 kicking handcuffed suspect Juan Perez in 2009. Childers, who was fired, will have to wait longer to learn if he will get his job back. (Image from video provided by Sarasota County Sheriff's Office)
Sarasota Police Officer Christopher Childers was fired in November 2009 for excessive force and other charges, stemming from his arrest of Juan G. Perez, then a 23-year-old dishwasher, on public intoxication charges. The arrest and kicking of Perez, as well as an attempt to later pay him a hasty settlement, sparked a scandal that led to Childers being fired and, in part, to the resignation of Police Chief Peter Abbott.
Childers appealed his firing to the city Civil Service Board, but before the board could render a decision it was stopped because of allegations that two of its members violated the state Government-in-the-Sunshine Law by discussing the case during off-the-record breaks at a hearing on April 20, 2010. The city acknowledged the open government violations happened.
At a hearing Friday, the main issue facing Circuit Court Judge Lee E. Haworth was how to remedy, or in legal parlance "cure" the potential Sunshine Law violations. No witnesses testified; the judge only heard arguments from three attorneys involved in the case.
Andrea Mogensen, attorney for the open government group Citizens for Sunshine, argued that a new Civil Service Board should start over and rehear the case from the beginning.
That scenario is unlikely to favor Childers because the original board had already dismissed two of the most serious charges that led to Childers' termination before it was stopped by a court order Mogensen obtained after learning of the Sunshine Law violations.
Mogensen compared what happened at the initial hearing to a mistrial, which usually results in a new trial.
"The board should have been dismissed and it should have started all over with a new board," she said. "Either a public meeting is fully open or fully closed. There are no intermediate categories."
Nevin Weiner, a union attorney representing Childers via the Southwest Florida Police Benevolent Association, argued that the board should pick up where it left off in 2010, and only consider the remaining minor charges.
"The issue for the court is not whether a conversation occurred, but was there a decision reached out of the sunshine," Weiner said. "There was no out-of-the-sunshine decision reached."
The PBA believes Childers should be reinstated to active duty within the police department, and that he should received full rank, pay, benefits, seniority, cost-of-living increases, bonuses and back pay retroactive to his November 2009 termination.
The City of Sarasota, represented by attorney Whitney Coyne, was neutral in the debate.
Judge Haworth took the issues under advisement, and gave all three sides until next week to submit trial briefs for him to consider.
Childers appeared in court Friday along with several uniformed police officers.
In additions to Childers, four city employees were disciplined for their roles in the Perez incident. Six months later, Abbott resigned. Last year, the city settled a police misconduct lawsuit with Perez and awarded him $40,000.
Copyright © 2012 HeraldTribune.com