Meriden police to encrypt radio signals
MERIDEN - The plan by Meriden police to begin encrypting digital signals would take their radio communications - which have been monitored by the media and citizens for decades - into the dark.
Police have already switched over from a traditional analog signal to digital communications in order to comply with a recent change in Federal Communications Commission regulations. The digital frequency gives police the option to encrypt their signal, meaning that only those who have been given a specific code will be able to listen in on the communications, including the dispatching of officers to calls.
According to officials, the decision was made out of concern for officer safety, as cellular phones and other mobile devices present more and more ways to track police activity - which could make police work more difficult and dangerous.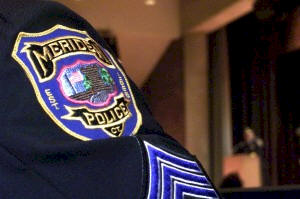 However, the sound of dispatchers and officers communicating over the scanner is often the only way local media and other listeners learn of incidents such as bank robberies, violent assaults or motor vehicle accidents. Police can often take hours or even days to distribute information on a specific incident to the press, if they choose to at all.
State Freedom of Information Commission spokesman Thomas Hennick said laws require government and municipal agencies such as police departments to keep records and make them available to the public, but do not specify how they may communicate over the airwaves.
"We wouldn't have any jurisdiction over their scanners," he said.
James H. Smith, president of the Connecticut Council on Freedom of Information and a former Record-Journal executive editor, said the prospect of police departments taking their radio transmissions out of public earshot is "troubling."
"It's not just the press. It's all sorts of citizens with electronic capabilities that monitor the activity of police and fire departments. Everything they do is public," he said.
"The advantage for the news media to be able to hear when emergencies happen is to dispatch reporters and photographers, in order to fulfill our need to the public to inform them fully," Smith said. "If you have no idea that there's a bank robbery going on, or there's a shooting, or there's a fire, or you hear belatedly, you're not able to report as fully."
Police Chief Jeffry Cossette did not return a request for comment on Friday.
Lt. Patrick Gaynor, president of the police union, said that emergency calls should still be audible through fire department transmissions, which will remain unencrypted. He added that he was unsure whether the department plans to make any changes to how it shares information with the press or public because of the encryption.
"That's definitely an issue that we'll have to discuss," he said.
Gaynor stressed that the department, which is currently under federal investigation for alleged brutality and other misconduct, was not attempting to reduce its level of transparency, and is developing a website to share information on arrests and other incidents with the public.
"Everyone's going to have access to all the information. It's not like we're trying to hide anything," he said.
City Manager Lawrence J. Kendzior could not be reached for comment Friday, but Gaynor estimated the cost of the entire switch to digital signal, including equipment that will enable encryption, at just under $2 million.
Only a handful of other police departments in Connecticut, including those in Bristol, Stamford, Milford and Wilton, have taken steps to fully encrypt their communications.
State police moved to a digital signal shortly after the FCC implemented its mandate in 2009, but spokesman Lt. J. Paul Vance said they have opted against encryption.
"Our frequency is accessible. If we need to keep things private, we either don't use the radio or we use code," he said.
City Councilor and Public Safety Committee Chairman Anthony D. Tomassetti said the council was not consulted about the planned encryption, but that he saw no issue with it.
There is no specific timeline for when police will begin encrypting their signal, although Gaynor estimated it was around 80 percent in place.
"As far as the planning phase, it's done," he said. "The execution of it is the only thing that we're waiting for."
Copyright © 2011@record-journal