Meriden police face another lawsuit claiming brutality
Dan Ivers Record-Journal
Posted: Wednesday, May 2, 2012 6:35 pm |
Updated: 10:49 pm, Wed May 2, 2012.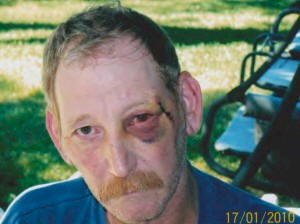 Robert Seagrave

Photo of Robert Seagrave. (Photo provided by Attorney Sally Roberts)
MERIDEN — Another lawsuit has been filed against members of the Police Department, this one by a Higganum man who says he was badly injured during a 2010 arrest.
Robert Seagrave, 54, filed the federal suit against officers Kenneth Egan, Vasco Lacerda and Kathyria Maldonado on Monday, claiming they violated his civil rights by using unreasonable force during an arrest. He is represented by attorney Sally A. Roberts, who is pursuing several lawsuits against the city and the Police Department.
City Attorney Deborah Moore declined to comment on the suit Wednesday, citing policies on pending litigation. Police Chief Jeffry Cossette has repeatedly declined to comment on the specifics of brutality allegations, but has defended the department's actions.
None of the officers named in the suit responded to a request for comment Wednesday.
Seagrave alleges that at around 1 a.m. on July 15, 2010, he was sitting in the backseat of a car being driven by a friend, Rocky Nuckols, in the area of South Grove Street and Hanover Street when Maldonado pulled them over. Egan and Lacerda arrived as back-up officers, and all three passengers were ordered out of the car.
Seagrave says he reached for his wallet in his back pocket to provide his identification as Egan was performing a pat-down search. Egan then allegedly slammed Seagrave to the ground, with Seagrave's head hitting the sidewalk.
Egan's report stated that Seagrave acted aggressively during the incident and hit the ground as officers attempted to subdue him. Seagrave did not file a complaint with the department after the incident, according to Roberts.
According to the lawsuit, the blow caused Seagrave to lose consciousness; he woke up at MidState Medical Center. He suffered cuts to his head and face, and needed stitches near his left eye.
He was charged with interfering with police, but Seagrave's lawyer said that charge was later dropped to creating a public disturbance, and he paid a $100 fine. A search of the state's Judicial Branch website found that Seagrave has served prison time on multiple counts of driving under the influence, but shows no convictions since 2003.
According to a report filed by Egan, he ordered Seagrave, Nuckols and an unidentified third passenger out of the car after noticing that Nuckols, who was heavily intoxicated, reached for a large ratchet handle on the passenger side floor. An unlabeled prescription bottle full of pills was found in Nuckols' pocket, and Egan ordered him to sit in the back of a police cruiser, according to the report.
A check of the unidentified passenger turned up nothing suspicious, so Egan turned his attention to Seagrave, who was also heavily intoxicated and unable to respond to basic questions. Egan wrote that as he performed a pat-down search, he asked Seagrave to hand over a pack of cigarettes he was holding.
Seagrave refused, Egan wrote, and "tensed up" as he tried to pull the cigarettes from his grasp. He told Seagrave to relax, but Seagrave pulled away and began moving toward Maldonado, according to Egan.
"Seagrave was aggressively swinging his arms at this point, yelling about handcuffs, so I quickly wrapped my arms around his waist and took him to the ground where I could gain control and compliance over the aggressive male," Egan wrote.
Egan said Seagrave hit his head on the sidewalk during the struggle, and that an ambulance was called to take him to MidState. He later spoke with Seagrave at the hospital, where Seagrave stated he could not remember the confrontation, admitted he had had too much to drink and apologized to Egan, according to the report.
Nuckols was charged with possession of a controlled substance, possession of drugs near a prohibited place, operating under suspension and driving while intoxicated, for which he was sentenced to 18 months in jail. There is no record of the third passenger having been arrested.
In an email to the Record-Journal, Roberts said her client never apologized, and was subjected to unfair treatment despite not having been engaged in any criminal activity.
"It is not a crime to have had a few beers and to be seated in the backseat, not behind the wheel," she said.
Lacerda, Egan and Maldonado remain on the city force. Egan is on administrative duty while state police investigate the April 21 death of Raul Rosado, who police say attacked officers with scissors before being shot.