EDITORIAL
Law Might Help Police Learn To Leave Cameras Alone
Taping Police: Citizens have a right to photograph police in public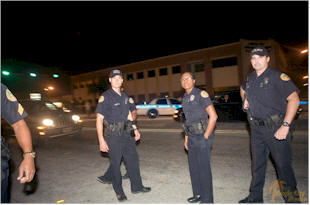 Miami police object to being photographed in this 2007 photo.
(Photo courtesy Tomas Hawk…) June 06, 2012
In 2009 a New Haven priest, the Rev. James Manship, was arrested when he tried to videotape local police harassing Latinos at a convenience store in East Haven. The incident promoted New Haven state Sen. Martin Looney to introduce a bill that would offer legal protection to citizens who take videos or photographs of police officers acting in the line of duty.
The bill won Senate approval in each of the last two legislative sessions, but in neither did it reach the House.
Sen. Looney said Tuesday he will introduce the "cops and cameras" bill next year, and hopefully it will pass. Despite the publicity over the Rev. Manship's arrest, some police officers continue to harass and arrest citizens with cameras.
New Haven-area police seem particularly camera-shy. As the New Haven Independent has reported, there have been several controversial incidents of cops harassing citizen photographers since the Rev. Manship's arrest, including one on Saturday night.
Police Chief Dean Esserman has ordered an internal investigation of an incident in which a sergeant allegedly had a woman arrested and a cell phone camera snatched from her bra (by a female officer) after she recorded him beating a handcuffed suspect. If true, the Independent reported, it would violate a departmental order issued last year that is supposed to protect the rights of citizens to photograph or videotape police officers in public.
A lawsuit for damages, which Sen. Looney's bill would allow, might get the message across.
Citizens do not have the right to interfere with police or violate the integrity of a crime scene. Beyond that, citizens should be able to take pictures of police activity in public places. Some departments are training their officers to expect to be taped or photographed, and they should.
For one thing, a photographic record would exonerate police more often than not. For another, cell phone cameras are ubiquitous; to try to stop people from using them is pointless. It's better to set reasonable ground rules and live with them.