East Haven Officer Awaiting Civil Rights Trial Charged With Illegal Deer Hunting

The Hartford Courant
By DAVE ALTIMARI
4:58 PM EST, January 23, 2013
An East Haven officer awaiting a federal civil rights trial may have his bond revoked after his arrest on charges of illegal deer hunting.
David Cari earned "Buck of the Month Club" honors from a national hunting magazine in November,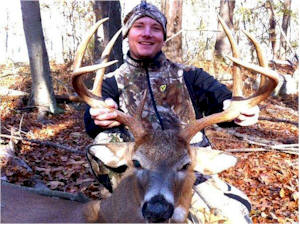 but now federal prosecutors plan to use the magazine photo showing him proudly holding up the antlers of the dead animal as evidence to revoke his bond.
Cari killed the deer with a bow and arrow, which prosecutors say is classified as a weapon and therefore should have turned over after his release on bond. He was arrested in January 2012. Cari did turn over seven pistols, five rifles and three shotguns.
Cari killed the deer on Nov. 6, federal officials say. Court records indicate that his hunting practices came under investigation by the Regional Water Authority when a witness whose property abuts the authority's land discovered a high tech surveillance system set up for deer hunting.
The witness noticed that there was a clearing in the woods where deer feed was spread on the ground, a camera attached to a tree pointed in the direction of the food and a "camouflage colored hunting blind," used by hunters to avoid detection, according to court records.
The witness told an investigator he saw Cari and another man on an ATV and that they admitted to him the setup was theirs but that they had permission to hunt on the property.
The investigator from the water authority found the camouflaged colored hunting blind. Inside the blind were two chairs, a plastic bottle of scent killer spray and an Ozonics Scent Control fan hanging from the ceiling, court records show.
Photos in the camera, dated Nov. 14, 2012, showed two dead deer hanging in the backyard of someone's home with Cari holding the antlers of one of them, court records show. Cari also lives close to water authority property.
When the officer confronted Cari about whether he was illegally hunting on water authority property he denied it. He also denied that the camera was his, telling the officer that "kids in the area may have put it up for paint ball games."
Federal authorities said state hunting license records show that Cari applied for and received a hunting license on Nov. 14. Cari also told state officials he had killed one deer with a rifle and another with a bow and arrow.
Cari was charged with illegal deer hunting and criminal trespassing in the third degree. He has a state court date of Jan. 30 in New Haven on those charges.
Cari has been out on a $100,000 bond confined to his home. But federal prosecutors will argue Thursday in U.S. District Court in Bridgeport that his bond should be revoked and he go to jail until his trial starts.
"Confining Cari to his residence is not an option that will ensure that Cari will abide by this Court's orders; nor will it ensure that he will not be a danger to the community,'' Assistant U.S. Attorney Krishna Patel wrote.
Patel said the state criminal charges, coupled with the fact that Cari lied to a law enforcement officer about his deer hunting, should be enough to revoke his bond.
Cari is supposed to go on trial either in late March or early April.
Cari is charged with conspiracy to violate someone's civil rights, one count of deprivation of rights for making arrests without probable cause and one count of filing false reports to justify false arrests.
He was one of four East Haven police officers arrested in a federal civil rights probe. Sgt. John Miller and Jason Zullo have plead guilty to lesser charges. The fourth officer, Dennis Spaulding, is scheduled to go on trial with Cari.