Attorney in cases against Meriden police takes pride in fighting for the disenfranchised
'A scary battle, but not a lonely one'
"I am fighting powerful people and institutions," says Sally A. Roberts, the attorney who is handling multiple cases alleging police brutality and other wrongdoing by the Meriden Police Department and Chief Jeffry Cossette
By: Adam Wittenberg,
Record-Journal staff |
Posted: Saturday, May 21, 2011 10:38 pm
MERIDEN - "I am fighting powerful people and institutions," says Sally A. Roberts, the attorney who is handling multiple cases alleging police brutality and other wrongdoing by the Meriden Police Department and Chief Jeffry Cossette.
"It's a scary battle but not a lonely one," she continues. "It takes moral courage, character, tenacity, perseverance and sheer grit."
Roberts, 54, of the New Britain firm Peter Upton & Associates, has exhibited those qualities from her youth.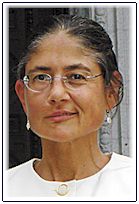 A collegiate tennis player while at Radcliffe College, Roberts hasn't lost her competitive spirit, even when facing a tough fight.
Rather than shrinking from a battle, the civil rights attorney puts herself "on the line" and locks arms with others to defend "the disenfranchised, those who have no voice ... all those who understand that might is not right and power truly does lie with an involved and compassionate citizenry," she said in a recent e-mail.
Roberts has her fans in the legal community and among her clients - one attorney called her "Sugar Ray Sally," after the boxer, and said "you could be the next bantam weight boxing champ of the world, all age groups, any gender" - but her willingness to stand up and stand out could also present risks.
Roberts has filed intents to sue the city on behalf of three men who claim they were victimized by Officer Evan Cossette, the chief's son, and has filed two more defamation and invasion of privacy lawsuits against the chief on behalf of Officer Donald Huston and former officer John Neron.
She is also representing Huston and Brian Sullivan, the officers who filed a complaint April 1 alleging a pattern of nepotism, disparate treatment and cover-ups in the Police Department. Both men have grievances pending with the state labor board over how they were disciplined.
In the wake of the allegations, state and federal investigators have launched a probe of the department and the city has hired its own independent investigator. Media attention has thrust the police, and Roberts, into the public light.
No stranger to controversy, Roberts has welcomed press coverage in recent years.
There are profile pieces in local legal publications, coverage of her visit to the state Capitol with a teenage bullying victim she is representing from Middletown and visits to libraries across the state to speak about maintaining her work-life balance, which she does by engaging in outdoor activities like snowshoeing and kayaking.
High-profile cases
Regardless of whether she prevails in court, the media coverage could be beneficial, said one law professor.
John Thomas, a civil litigation professor at the Quinnipiac University Law School in Hamden, said he had a friend who "lost the biggest jury award in Arizona history" at the time in a personal injury case in the 1980s.
"He was worried about the case," Thomas said, "but the next week he got more business and more new clients than before. He was stunned.
"There is value in participating in a high-profile case, regardless of the outcome," he continued. "Bad publicity is still publicity."
But Roberts said she's motivated to seek justice.
"I have wanted to be a lawyer since the eighth grade, when I first read the Perry Mason novel - and ever since then wanted to be the "Lady Lawyer in Court," she said in an e-mail after declining an in-person interview because of her busy schedule.
A Greenwich native, Roberts graduated from Radcliffe in 1979, as the women's school was merging with Harvard University. She then studied law in Washington, D.C., at American University's Washington College of Law, which was the first law school founded by women, although it began admitting men at the end of the 19th century.